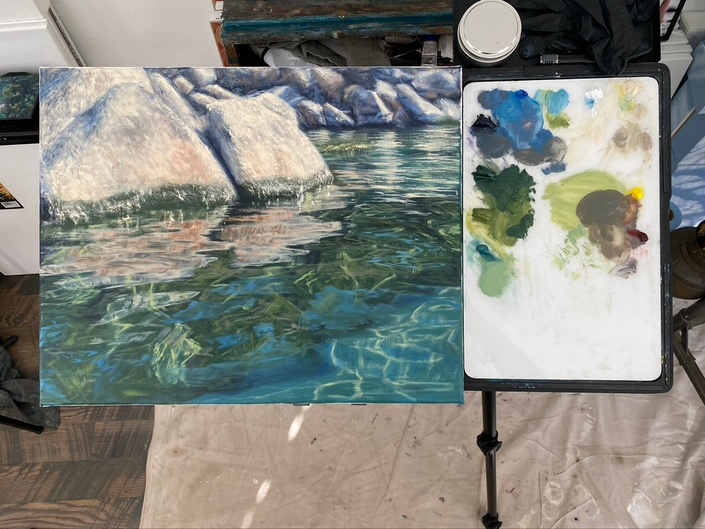 How to paint rocks in and around water
Your start to finish guide to painting transparent water that FEELS real
Enroll in Course
Have you ever tried painting something completely new and unfamiliar only to find out that sticking your brush out of your comfort zone is as challenging as it is exciting?
Change is never easy.
Back in 2017, we moved away from my beloved ocean to South Lake Tahoe, CA.

Even though nature here is incredibly beautiful, for years, I kept painting my familiar ocean because I just couldn't figure out this new kind of water, so clear you could see every grain of sand over 60 feet below the surface.
I'm not exaggerating, that's the current Lake Tahoe visibility depth: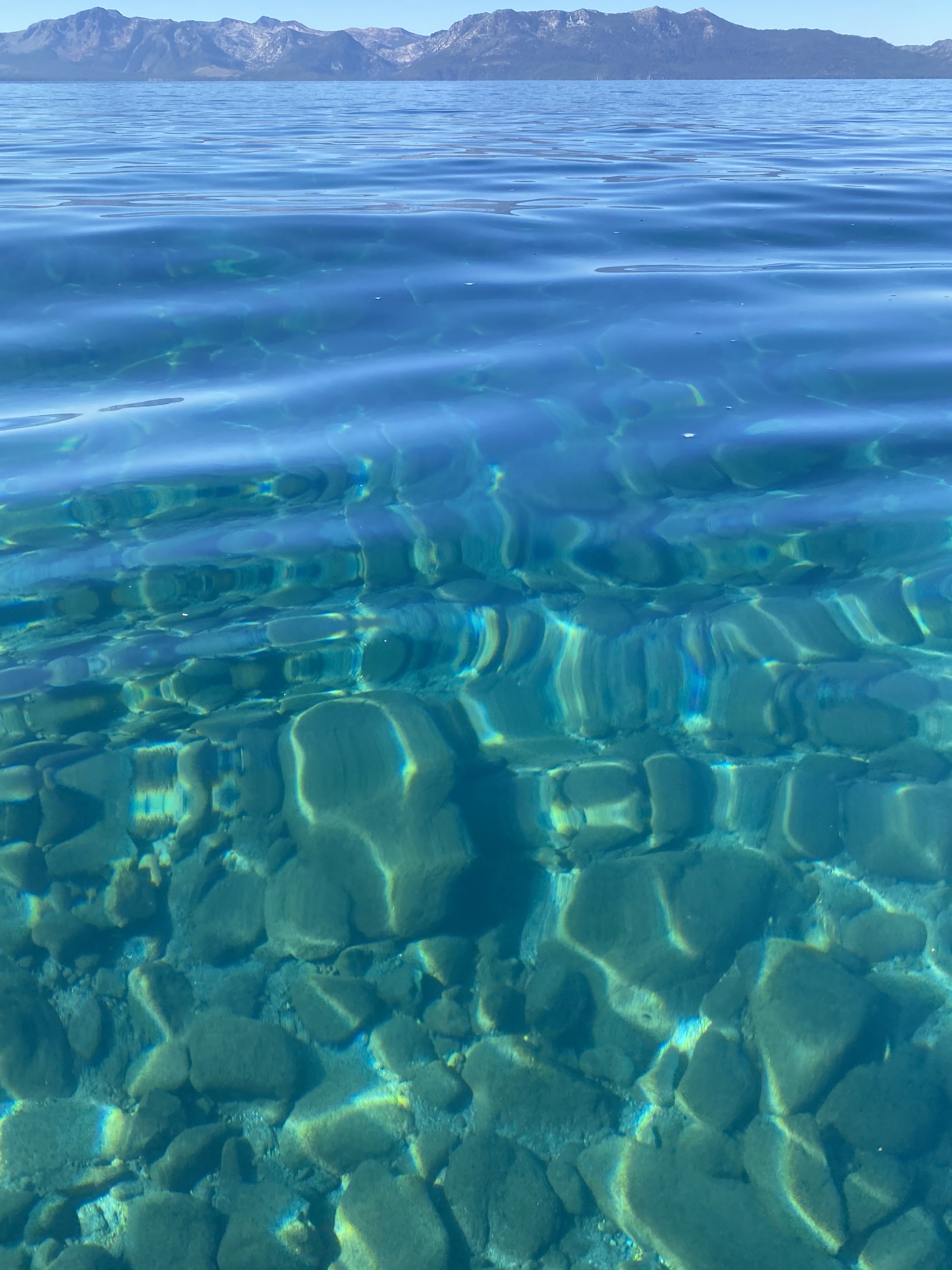 Fast-forward 5 years, after studying and painting these lakes every day, and quite a few canvases in my trash can, things changed.
Here's me in the studio, ready for my first solo show in New York, 2021: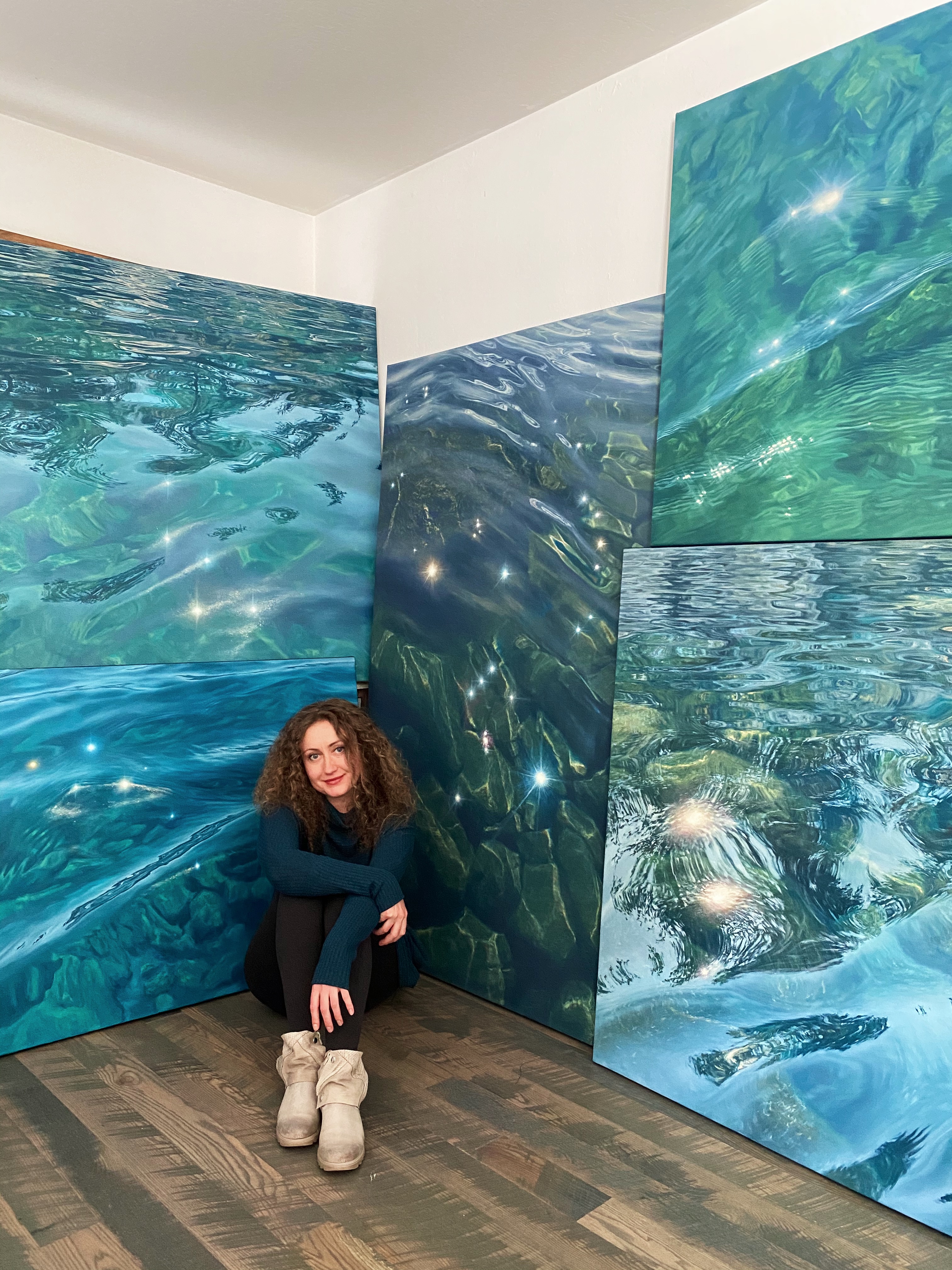 And a more recent show at Arcadia Gallery, 2022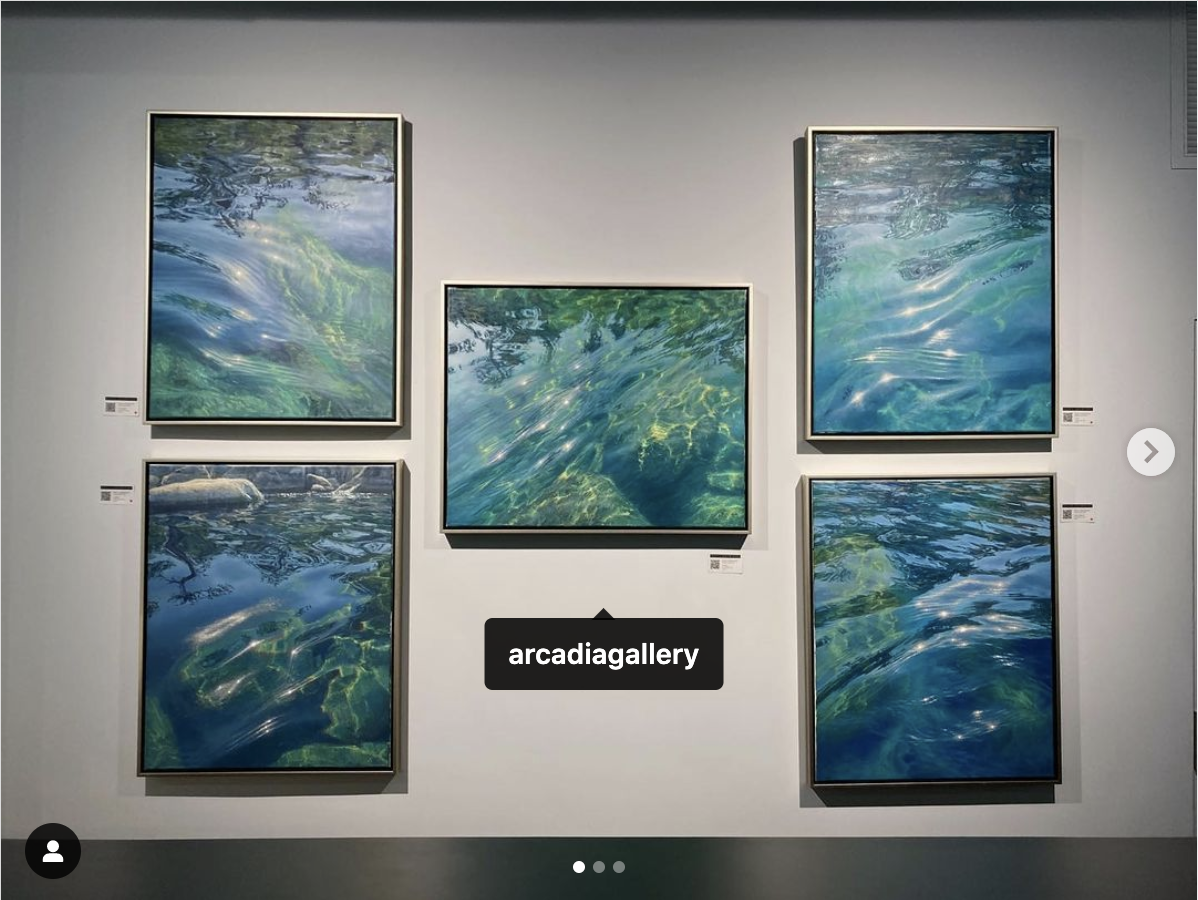 All I've learned during these last 5 years are now available to you in this start-to-finish guide to painting transparent water, with rocks in and around water, to make it not only look but FEEL real. Which will save you some of that time and frustration.

I have no formal art education.
Everything I'll share with you I have figured out by trial and error. It took many years of observing the surrounding lakes for hours every day, painting them from my kayak or in the studio, making a thousand mistakes, and figuring out how to fix them.
It takes many paintings like this to make one for a show: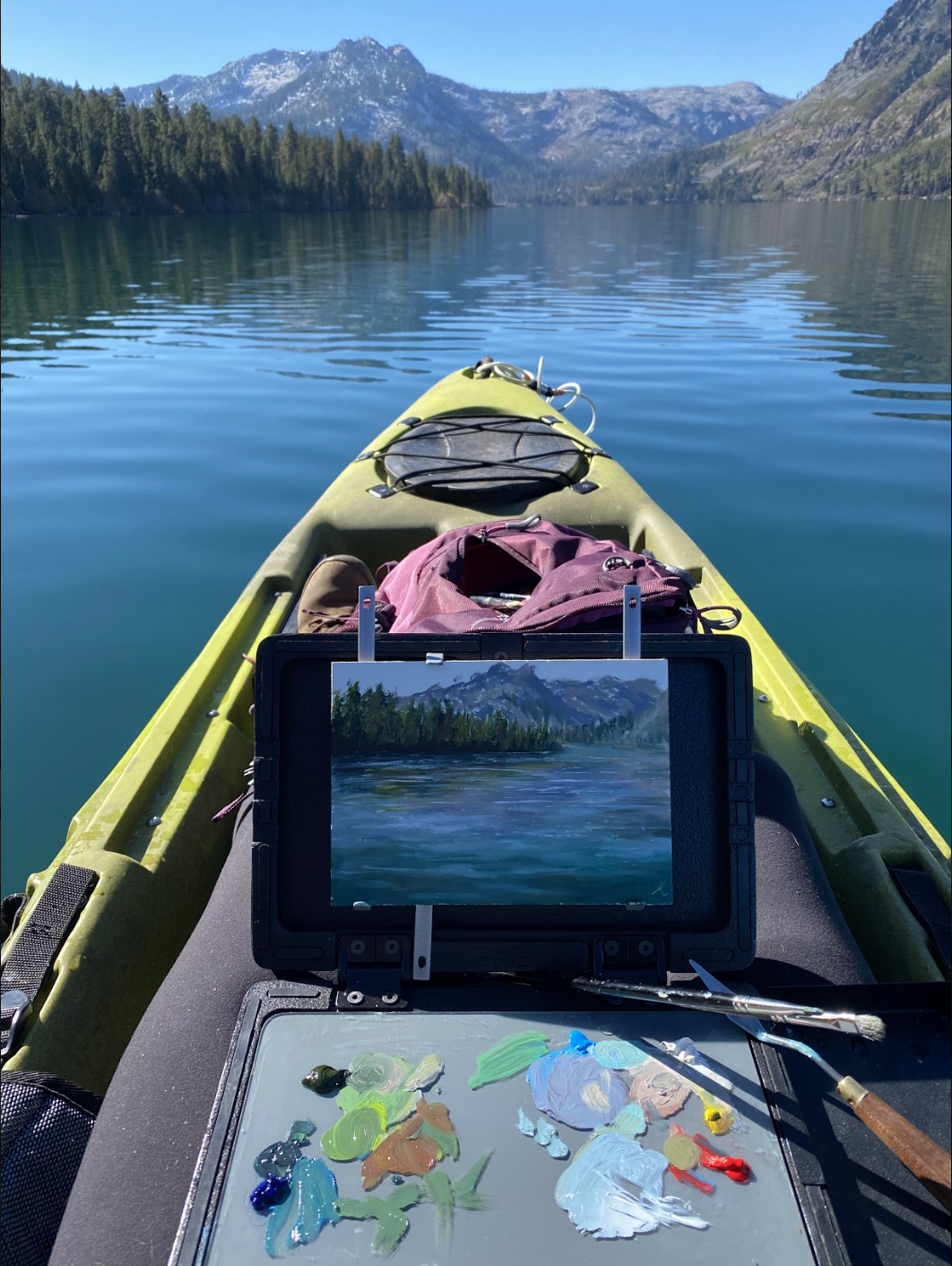 Although I'm constantly learning something new, I have discovered several things that work for me every single time.
I will walk you through my entire process, from the way I approach the subject of water, to the materials I use.
I'll talk about oil painting mediums and varnishing, along with my approach to color mixing for painting water. You will see my palette as I paint so that you don't have to guess how I got each particular color.
This is not a paint-by-numbers course.
I am here to help you paint your own water in your own unique style, not just finish one painting.
However, we will finish three paintings together.
The first one is of fully submerged rocks: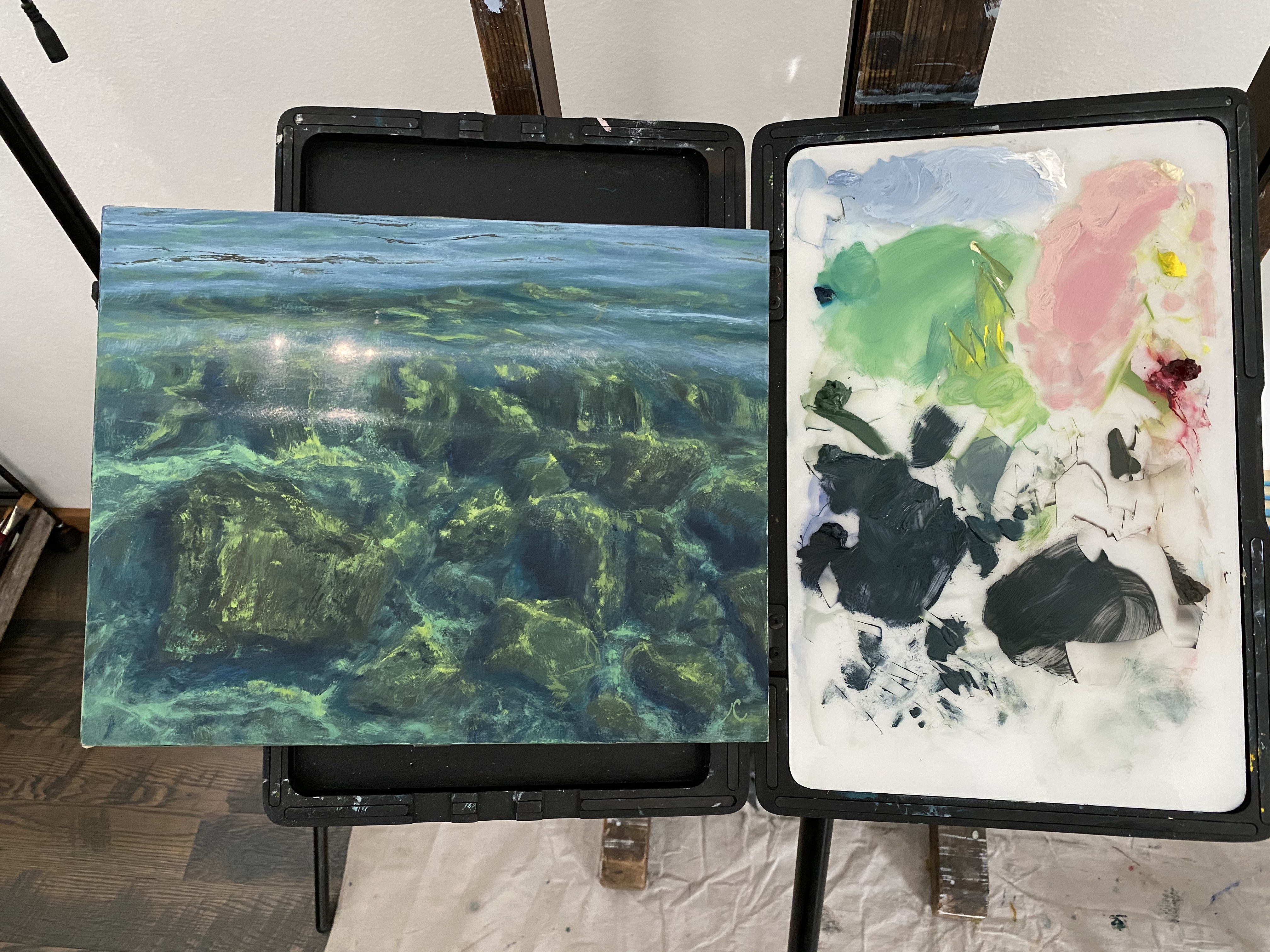 Second one is of partially submerged rocks: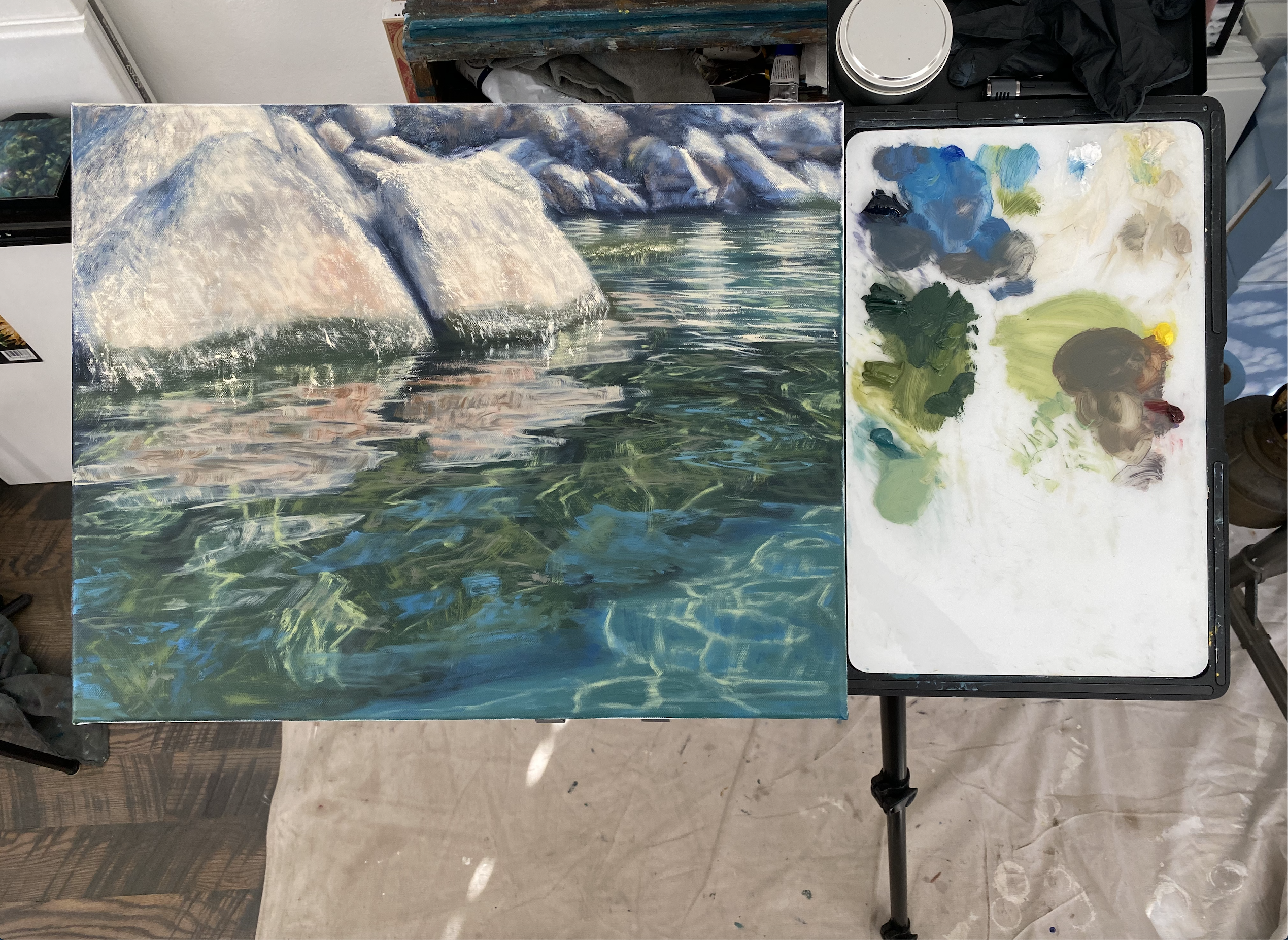 And finally, the bonus painting. The one I filmed by accident, which means that you'll be able to see how I paint when no one's looking:)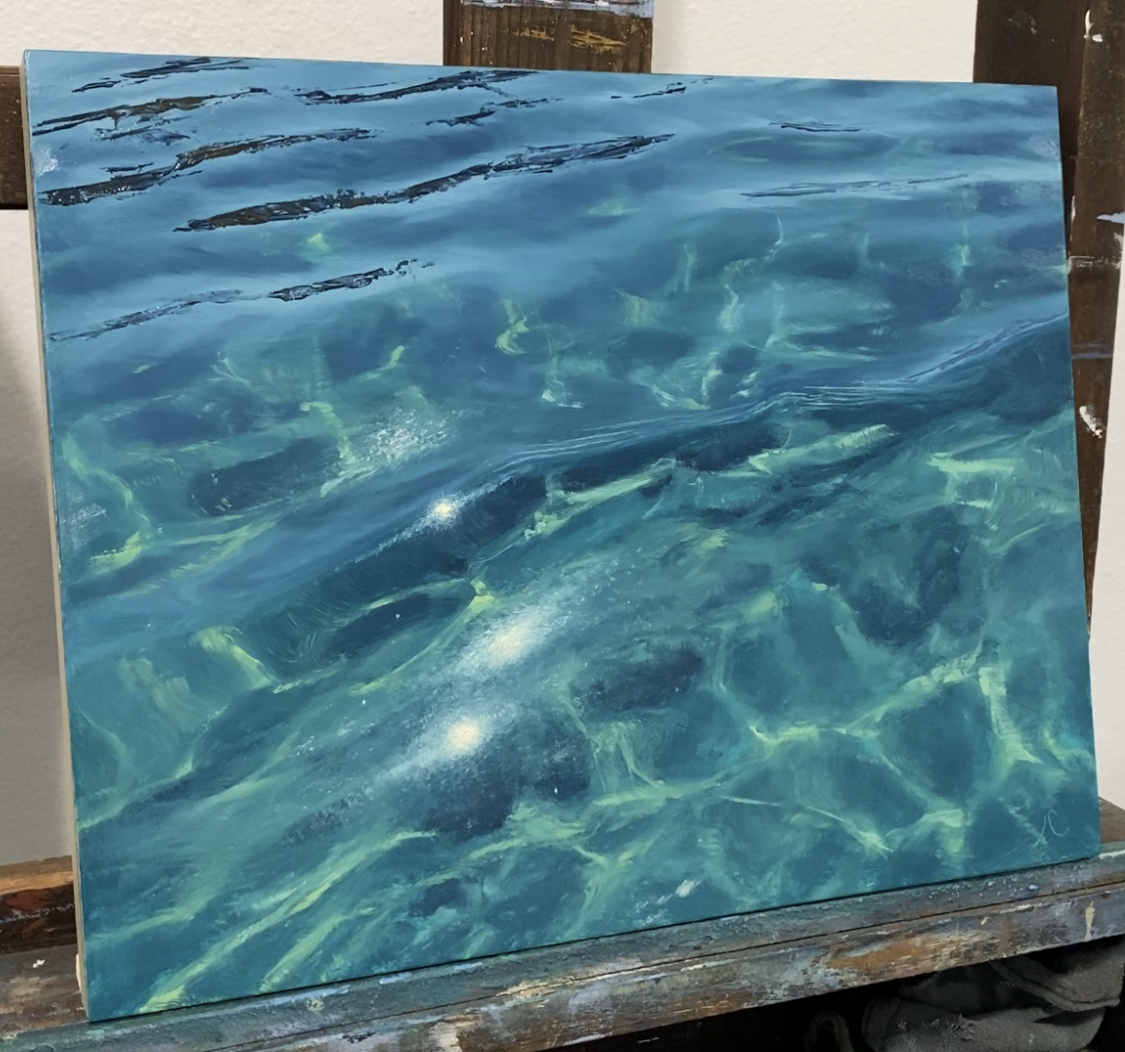 You can watch these real-time demo videos as many times as you wish. Paint along with me the first time, or watch first and then paint the second time. No rush; practice as much as you need.

At the end of this course, you will have the confidence and mental tools to paint your own deep and clear water that feels real.
This course includes:
My approach to understanding and painting rocks in and around water.
The art materials I use, and how you can choose alternative tools and supplies for your painting.
Detailed video demonstrations on color mixing.
Two real-time demos. No time lapses, no skipped parts of the process.
About 15 hours of instruction (and counting).
The view of my palette as I work. You'll see exactly how I mix those elusive colors for painting water.
Detailed video on how to varnish your paintings.
Video explanation about oil painting mediums and fat over lean rule.
Bonus #1: a third real time demo in which you can see how I work when no one's looking (filmed by accident)
Bonus #2: 50 reference photos for your personal practice
Bonus #3: Q&A videos that I will be adding as we go to respond to your questions.




See course curriculum for details:
Course Curriculum
Getting started
Available in days
days after you enroll
Understanding water - rocks interaction
Available in days
days after you enroll
Demo 1: Fully submerged rocks
Available in days
days after you enroll
This course is for you if:
You have no trouble painting ocean waves, but rocks in and around calm water are a challenge

You find painting water and rocks frustrating

You don't know where to even begin

You have been painting water for some time, but after seeing my paintings you think you can learn something from me

You tried to paint water, but it just doesn't look real

You are looking for a new approach to painting water because the old one doesn't seem to work anymore

You need a dose of inspiration to get back to painting again

You need a gift for your artist friend :)
Other things to consider:
I will be improving this course along the way according to your feedback, adding new bonuses or updates in case I learn some new and better ways of painting. This course will evolve, possibly along with the price. And you will have lifetime access to all that for no additional charge.

If I ever create any other courses, demos, or open up limited 1-on1 coaching, you will be the first to know.

At the end of this course, you will have finished at least two paintings. Selling even one of them will cover the price of this course! Not to mention that this may be your first step to becoming a full-time artist.

Investment in yourself is always a good investment!
Satisfaction guarantee
If, for whatever reason, you are unsatisfied with your purchase, contact me within the first 7 days after enrollment, and I will give you a full refund. No questions asked.
Even if you are simply annoyed with my accent:)
Frequently Asked Questions
My life is so busy right now, I honestly have no time for painting. Can I start
later?
The course starts the moment you enroll. But you will have access to it for life! It is completely self-paced - you decide when you start and when you finish. You can work on it each day and finish in 2-3 weeks! (depending on how fast your paint dries between layers). Or you can start later, log in whenever you have the time, and fit it into your busy schedule.
Can't I just learn this all by myself?
You can! It took me over 15 years of hard work with occasional fits of frustration, spending hours watching the ocean every single day for years, but eventually, I figured it out. And so can you! Or you can spend a couple of weeks learning it from this course. It's up to you:)
How long do I have access to the course?
As long as you have WiFi :) After enrolling, you have unlimited access to this course for as long as you like - across any and all devices you own.
Can I still benefit from this class if I paint with acrylics/watercolor
?
Yes, I mostly focus on the underlying reasons for choosing a certain color or shape, no matter the medium.
So you can still learn how to paint rocks in water, with the condition that you already know your medium well enough to adapt this information to your materials of choice.
But it is best suited for oils. Also, you can just try oils, maybe you'll like it:)
Does the course include personal feedback and critique?
No, I will not be able to work individually with each student. Also, I do not critique anyone's work as there's no right or wrong in art. I share what I do and how I do it, and you pick and choose what works for you. In fact, try not to ask permission to create what you create from anyone. Learn what you think you need to know in order to produce your best work, but don't let anyone tell you it's bad. That's their personal preference. Imagine if Picasso listened to his critics, he'd stop painting, or paint like everybody else.
Will I learn how to market my work/approach galleries/build my website?
No. This is not an art marketing course.
Are there subtitles available in my language?
No, unfortunately, there are no subtitles in any language. The course is available in English only.
What if I'm unhappy with the course?
If, for whatever reason, you are unsatisfied with your purchase, contact me within the first 7 days after enrollment and I will give you a full refund. No questions asked.
Your Instructor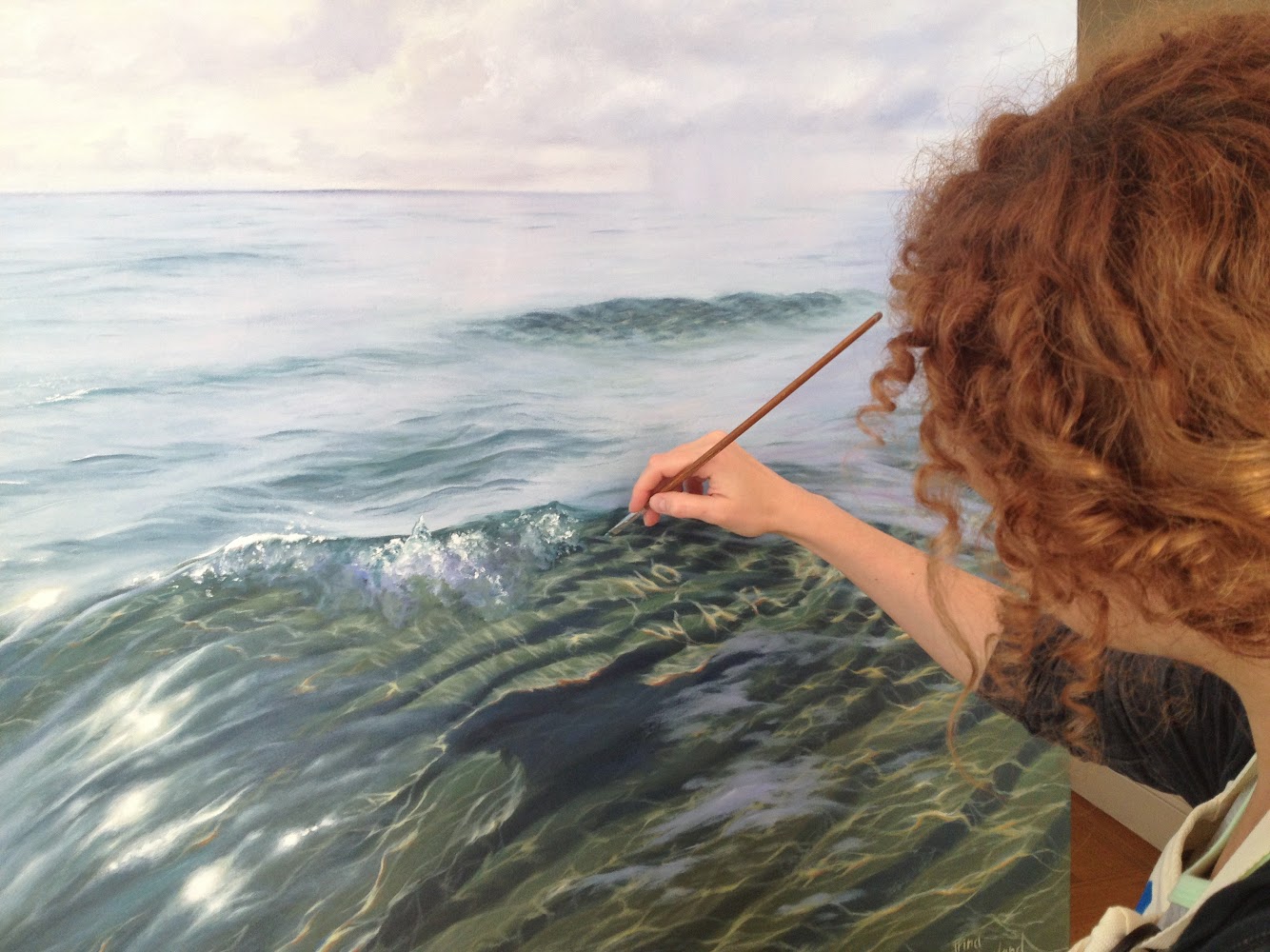 Even though now I paint realistic water for a living, relatively proud of my work and selling almost everything I paint, there was a time when I was just as frustrated and overwhelmed with painting the ocean as you may be today.
I was painting 5 seascapes on top of one another and then throwing that very thick canvas away, because I JUST couldn't understand how to make it look like water instead of some solid blobs of blue and white.
Gradually, as I was watching the ocean for hours every single morning, I started to notice certain patterns and principles that I could apply in my paintings to make it look more realistic. It took many years of trial and error, and wasted paint and canvases, to get to where I am today.
Now I would like to help you to understand the main principles of painting realistic water, to give you a head start and save you years of trying to figure it out on your own, so that you can become confident and clear in creating your own "Quit your day job" worthy water paintings and be on your way to living YOUR dream.
Let's Paint-A-Wave together! :)